A story that begins in 1848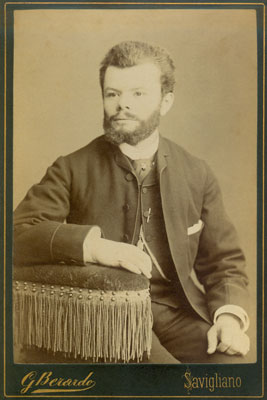 Giuseppe Pipino in a photograph from 1887
After thirty-seven years, in 2015, the brand Pipino & Fino reverts back to the ownership of the Pipino family, owner of Prato s.r.l.
A new beginning for this old brand full of history and tradition.
It was in 1848 that "great-great grandfather" Ariano founded the "First Italian Bakery", and if today he could recount the origins, he would tell us about the smelling breads brought out from the oven and filling the baskets. The entire family participated in mixing, baking, preparing baskets, and so on …
From those scented breads, from the skilled hands of "great-great grandparents", from great-grandparents Giuseppe and Clara and again, from the wood-fired ovens of the "First Italian Bakery of Giuseppe Pipino and Paolo Fino" on Ormea Street in Turin, so much time has passed: increased production, the first workers around the family, and those breads becoming more and more thin over the years, until they became Grissini (breadsticks). All was a turmoil.
The same turmoil that animates today Luciano and Paolo Pipino sons of Carlo, grandson of Giuseppe Pipino. A tradition that is renewed from generation to generation.
The new range of products Pipino & Fino was produced in the Prato s.r.l. factories, searching and selecting the most prestigious ingredients, the oldest cereals and with the focus on the new trends in taste and nutrition, while always remaining faithful to the tradition.
Specialties made with traditional methods as a long time ago because otherwise they would lose their identity; procedures who need the right breaks during the processing, the long leavening time, especially a manuality that in certain passages confers peculiarity to the product.
Specialty of the finest bakery prepared by our master bakers in the tradition of the family.